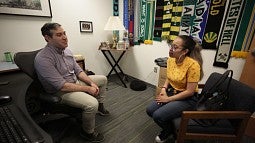 As you progress towards graduation, there are a number of items you need to keep in mind. Working with an academic advisor will help you to stay on track. Our advisors help students make a smooth transition to the university and assist continuing students in many ways.
In the sidebar on the left is information from the Division of Undergraduate Education and Student Success to help you find academic support across campus. There are many resources here to help you stay on track.
Before students are able to register for their first quarter at the University of Oregon, they must attend an Orientation Program called IntroDUCKtion. There are multiple IntroDUCKtions throughout the year for incoming freshman, transfer students, and international students.
All of our programs provide:
An introduction to general academic and graduation requirements.
The opportunity to meet one-on-one with an advisor who will help you select classes for the upcoming term and clarify the registration process
A Student Handbook
Information about registration on DuckWeb.
Your PIN number for registration. The PIN number will be required to register for your first term at the university. Remember, you must attend an orientation session before receiving a PIN number and attempting to register.
Which orientation program is for you?
IntroDUCKtion (in July) is for students admitted for fall term.
Week of Welcome (in September) is for students admitted for fall term who could not attend IntroDUCKtion in July
Mid-Year IntroDUCKtion is for students admitted for winter, spring, or summer terms.
International Student Orientation is held year round for students from across the world.