Students may get advising for professional or graduate programs in the Office of Academic Advising and in other departments across campus. Some of the programs simply require a bachelor's degree for admission, while others require specific undergraduate courses, standardized examinations, and field experience. Students may get advising for the following professions in the following departments:
---
Pre-Law
Office of Academic Advising
101 Oregon Hall
541-346-3211
prelaw.uoregon.edu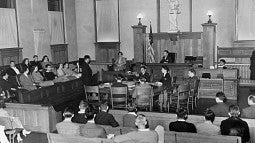 Most law schools have no requirements for a pre-law curriculum and will accept a bachelor's degree in any major. You should develop an educational program that is broad, yet provides depth of understanding in at least one subject area, along with fundamental insights into human institutions and values. The emphasis should be on a degree program that meets your needs and interests, that you find challenging, and in which you will do your best work and will earn good grades.
Legal educators agree that the development of particular skills and habits will contribute more to success in law school than a major in any one subject. Therefore, your coursework should focus on strengthening habits of thoroughness, intellectual curiosity, scholarship, the ability to research a topic, write concisely, analyze information, and think critically. Verbal and written communication skills are very important.
Courses in literature, language, composition, logic, and linguistics are directly concerned with the cultivation of these skills. In addition, lawyers must be adept at problem-solving and organizing information to support a point of view. Courses in political science, economics, American and British history, journalism, philosophy, and business principles will provide you with an opportunity to practice these skills and to gain an understanding of social institutions and values. Participating in debating teams hones important skills.
The University of Oregon School of Law offers a variety of Undergraduate Legal Studies and Conflict Resolution courses intended to orient students to different critical issues and areas of practice within the field of Law. A list of current Undergraduate Legal Studies course offerings can be found on the University School of Law website.
Questions about pre-law at the University of Oregon? Students can call 541-346-3211 to arrange an appointment with UO's pre-law advisor. Additionally, for students interested in learning more about law school, the University of Oregon holds an on-campus Law Fair each November with representation law schools from across the United States.
---
Pre-Health Advising: Pre-Med, Pre-Dental, Pre-Veterinary, Pre-Physical Therapy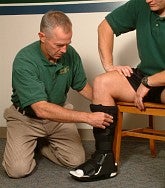 Whether you are interested in Pre-Med, Physical Therapy, Veterinary Sciences, or any number of health professions, UO Advising is here to assist you on your path.
You don't need to have already declared a major before visiting a health professions advisor. From the time you step on campus, Pre-Health advisors are available to discuss UO graduation requirements and to explore majors that align with your academic strengths and career interests. Once you have selected a major, you can take advantage of having two campus advisors—your departmental advisor who helps you stay on track for completing your degree and your HPP advisor who provides additional guidance in preparing for occupations that fit with your personal values and professional aspirations.
Careers in health-related fields usually require academic work beyond bachelor degrees. These graduate programs are interested in applicants who have earned solid grades in particular coursework and have gained practical knowledge and experience through internships, undergraduate research, or job shadowing. Pre-Health advisors can help you locate these enriching opportunities.
Advisors can help with…
Charting your coursework
Connecting you with your community
Locating enhancing experiences
Finding research opportunities
Securing faculty references
Preparing for the GRE or MCAT
Completing graduate school applications
Preparing for graduate school visits and interviews
Researching funding sources
For instructions on how to schedule an appointment with a Pre-Health advisor, click here.