The PeerLink program is currently accepting applications for the 2021-2022 school year! The application deadline is end-of-day (midnight) on Sunday, Feb 14th, 2021.
Apply to be a PeerLink Leader here!
---
Make the most of your time at UO by getting connected with a PeerLink Leader!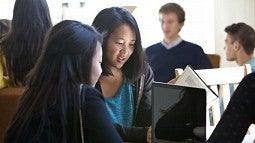 PeerLink Leaders provide UO students with academic advising, mentoring, and support, including:
Hosting drop in and appointment-based advising hours in the Office of Academic Advising
Explaining general education requirements
Connecting you with campus resources and academic support services
Helping you identify additional academic or co-curricular opportunities
Serving as a comfortable and continuous point of contact
In the fall, UO's PeerLink Leaders connect with first-year students to serve as friendly and knowledgeable connections to campus. PeerLink Leaders help navigate the transition to the first year and provide you with personal check-ins, academic advising, and information about resources and involvement opportunities at UO.
You can get connected with PeerLink Leaders using the Advising Helpdesk. You can also learn more about our PeerLink Leaders through Instagram!