Earning a Bachelor's Degree
This page introduces you to the requirements for earning a UO bachelor's degree. As you begin to plan your academic program, it is helpful to understand the UO degree requirements including the general education requirements.
The Importance of General Education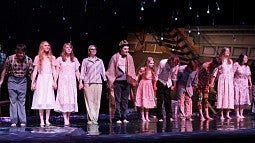 At the university general education focuses on the three chief types of human knowledge, imagination, and activity: social science, arts and letters, and science. Through a liberal arts education, you have the opportunity to creatively design and shape your own experience: through the general education classes, majors, and electives you choose, through practical learning experiences, and by getting to know professors and other students. We hope you will learn not only "book knowledge," but also how to live as an ethical, creative actor in society. While your education will be varied, it is connected and under girded by your learning to question and reason seriously, rationally, and analytically.
As you choose classes and a major, you too may find the beauty in a liberal arts education; learning to analyze and evaluate data, developing in-depth knowledge in specific topics, and learning specific skills. The ability to reason and communicate clearly—in writing and speaking—is important in education, as well as in employment and other parts of your life. These abilities are enhanced through writing and math classes. While people often say they will not use math after college, you will, whether it is your kid's homework, figuring out real estate interest rates, balancing your checkbook, or choosing between jobs after figuring the costs of transportation, dependent care, and taxes.
Being able to communicate also means understanding, tolerating, and celebrating people unlike yourself. Learning a second language and the cultures in which that language is used is an invaluable way to communicate and expand yourself.
Degree Audit
DuckWeb offers access to the degree audit and to other advising tools such as unofficial transcripts. The degree audit documents completion of general education and university degree requirements. With the UO ID and PAC number, students may log on to DuckWeb to access their most recent degree audit through the "View Degree Audit" heading on the "Student" menu.
General Education Requirements

Writing
It's a good idea to take your university writing courses as soon as you are eligible.
All students must take WR 121 and either WR 122 or WR 123.
You should satisfactorily complete (with a C-, P (pass), or better) both writing courses by the end of your sophomore year, that is, by the time you have finished half of the work toward your degree.
Multicultural Requirement
There are three multicultural categories: American Cultures (>AC); Identity, Pluralism, and Tolerance (>IP); and International Cultures (>IC). You need to take one course from two different categories. Of course, you can take more, but two is the minimum required for the bachelor's degree. For a complete list, visit group-satisfying & multicultural courses. Some of these courses also count toward the arts and letters, social science, or science group as indicated by the >1, > 2, or > 3 symbol associated with them.
Mathematics and Foreign Language
It's a good idea to consider taking courses in both math and foreign languages. Getting started in your first year is also a good idea. Math is a requirement for some specific majors, and, along with computer information sciences (CIS), for earning the Bachelor of Science (BS) degree. Foreign language study is required for specific majors, and for the Bachelor of Arts (BA) degree.
In many UO majors, you can choose to earn either a BA or a BS degree. The UO Catalog gives specific information on the degree options available for each major. For example, if you major in political science, you may earn either a BA or a BS degree; if you major in English you may earn only a BA degree.
If you are working toward a bachelor's degree in architecture (BArch), interior architecture (BIArch), landscape architecture (BLA), education (BEd), or music (BMus), your second-language or mathematics requirements may differ. Consult your adviser about these requirements. Bachelor of Fine Arts (BFA) students must meet either the BA or the BS requirement.
Earning a Bachelor of Science Degree (BS)
To earn a BS degree, you need to take the equivalent of one year of college-level work in mathematics and/or computer information science (CIS). Each course must be passed with a C-, P (pass), or better. To fulfill this requirement, you may choose from a number of options.
There are many math and CIS courses available at the UO, from developmental mathematics to calculus and beyond. Your choice of classes will depend on: your aptitude, your previous coursework, your SAT or ACT scores, your scores on a UO math placement test, and the majors you are considering. See your advisor for more information.
Earning a Bachelor of Arts Degree (BA)
To earn a BA degree, you need to demonstrate proficiency in a foreign language that is at the level attained by two years of college-level work. Here are two common ways of demonstrating that you have mastered a foreign language at this level:
Continue a language that you have already studied. As with a new language, you must be able to complete the third term course at the second-year level with a P/C- or better. In this case, your previous study will definitely give you a head start and you may fulfill your language requirement in less than two years. If you take this route, you must take a placement test to establish the level at which your language study should begin. Make an appointment at the Testing Center.
 
Start a language that you have not already studied and plan to take two years of it. The specific requirement is to earn a C-, P (pass), or better in the third term of the second-year language sequence, a course typically numbered 203.
Group Requirements
Course in the groups introduce you to key ideas in the three categories of human knowledge: arts and letters (>1), social science (<2), and sciences (>3 >4). The symbols >1 >2 and >3 are used in various UO publications to denote the courses from which you may choose within each group. The courses that fall into each of these groups are listed in the courses section of the Student Handbook as well as in the class schedule. You can also visit group-satisfying & multicultural courses to see the entire list of classes.