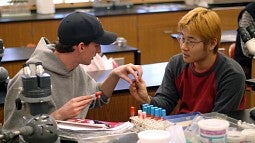 Healthy Communities
Acquire the knowledge to provide communities with the care they need. In the Healthy Communities flight path, you'll work with world-renowned researchers to explore wellness on a local and global scale. Discover how living organisms interact, how the human body evolves, and how your mind functions to solve complex cultural issues. Become a leader in health care, public health, social services, community advocacy, and government to improve our world. 
---
Schedule an Appointment     HC Majors & Minors     Email HC Team
---
The Health Professions Program is located within the Healthy Communities Flight Path.

Kim Marshel, Assistant Director

Miles Cunningham, Academic and Career Advisor

Sonia Gordillo, Health Professions and Academic and Career Advisor

Barbara Kessel, Academic and Career Advisor

Michelle Alexander, Academic and Career Advisor

Ellen Fields, Academic and Career Advisor
---
Healthy Communities Majors
College of Arts and Sciences
Biology
General Science
Human Physiology
Neuroscience
Psychology
Architecture
Interior Architecture
Landscape Architecture
Pre-Landscape Architecture
---