What Are Flight Paths?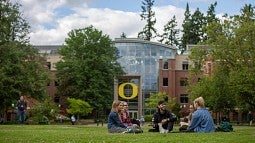 Flight Paths are six thematic categories based on academic and career interests and will serve as a framework for you to explore subjects, to help with eventually choosing a career path and a major. Finding the right major is a process for many students. Flight Paths will help connect you with the right major early in your academic career by intentionally exploring your true interests and strengths and discovering various ways you can reach an intended career goal.
How do Flight Paths Work?
Each Flight Path represents an academic and career theme and includes majors and minors from across the university that fit in the theme. Flight Paths will serve as a framework for advising all students, beginning with exploring students, who will receive advising in Tykeson Hall. Each path has a group of dedicated professional academic and career advisors who will serve as the points of contact for exploring student advising. Exploring students will select a Flight Path that best reflects their interests. Declared students will be assigned Flight Path(s) according to their declared majors. Flight Path advisors, who are located in Tykeson Hall, will work closely with advisors in schools and colleges to facilitate a smooth transition when an exploring student declares a major.
What Happens When I Declare a Major?
Students with declared majors in the College of Arts and Sciences will continue to work with Flight Path advisors along with major/department advisors. Students with declared majors in the Lundquist College of Business, College of Design, College of Education, School of Journalism and Communication, School of Music and Dance, and students in the Clark Honors College should continue to utilize the advising resources in their schools and colleges. 
---
Find Flight Path by Major or Minor
---
Flight Path Themes and Descriptions
Acquire the knowledge to provide communities with the care they need. In the Healthy Communities flight path, you'll work with world-renowned researchers to explore wellness on a local and global scale. Discover how living organisms interact, how the human body evolves, and how your mind functions to solve complex cultural issues. Become a leader in health care, public health, social services, community advocacy, and government to improve our world.
Majors within this flight path:
College of Arts and Sciences
Biology
General Science
Human Physiology
Neuroscience
Psychology
Architecture
Interior Architecture
Landscape Architecture
Pre-Landscape Architecture
---
Making sustainability part of everyday practice is one of the first steps toward protecting our environment and our future. In the Scientific Discovery and Sustainability flight path, you'll examine the universe, from neurons to stars. Working with researchers across the natural sciences, you'll learn about our ecosystem and the natural wonders of our planet. Explore the world through the sciences, environmental design technologies, and mathematics. Be the environmentalist our world needs.
Majors within this flight path:
College of Arts and Sciences
Biochemistry
Chemistry
Computer and Information Science
Data Science
Earth Sciences
Environmental Science
Environmental Studies
Geography
Marine Biology
Mathematics
Mathematics and Computer Science
Physics
---
Artistic and cultural expression allows us to understand our world and imagine other worlds. Share your thoughts and ideas with peers to collaborate and build community. In the Media Arts and Expression flight path, you will explore human experience and ingenuity through language, literature, visual, and spoken storytelling. Learning from writers, artists, media-makers, performers, and the scholars who study them, you will expand your sense of the past as you help envision the future.
Majors in this flight path:
---
Understand communities and our common issues around the world through cultural literacy and perspectives. In the Global Connections flight path, you'll have the opportunity to discover similarities and appreciate differences, as our world becomes ever vaster and yet more interconnected. Examine the diversity of human societies through the lenses of language, expression, and history.
Majors in the flight path:
College of Arts and Sciences
Anthropology
Asian Studies
Chinese
French
German
German and Scandinavian Studies
Global Studies
History
Italian
Japanese
Latin American Studies
Linguistics
Pre-Global Studies
Religious Studies
Romance Languages
Russian, East European, and Eurasian Studies
Scandinavian
Spanish
---
Take the lead in navigating industry in our ever-changing world. Study start-ups and business models to generate bold answers for some of society's hardest questions. In the Industry, Entrepreneurship, and Innovation flight path, you'll develop creative strategies by interpreting data and communicating your evaluations to broad audiences. Share innovative ideas eloquently and effectively to have a positive impact on your world.
Majors in this flight path:
College of Arts and Sciences
Economics
Spatial Data Science and Technology
Accounting
Business Administration
Pre-Business Administration
---
Identify how people come together for positive social change. In the Public Policy, Society and Identity flight path, you'll learn how societies evolve and function within the context of a changing world. Study systems of identity and power – from grassroots politics to the halls of Congress and beyond. Understand the many different paths to leadership and champion methods for taking an active role in shaping the communities in which we live.
Majors in this flight path:
College of Arts and Sciences
General Social Science
Indigenous, Race, and Ethnic Studies
Philosophy
Political Science
Sociology
Women's, Gender, and Sexuality Studies
Planning, Public Policy, and Management
Pre-Planning, Public Policy, and Management
---
Meet with a Tykeson College and Career Advisor to discuss the Flight Path(s) you'd like to explore!
File
2020-2021 Majors Mapped to Flight Paths.pdf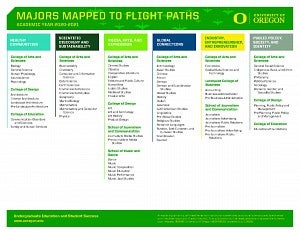 Tykson College and Career Advising