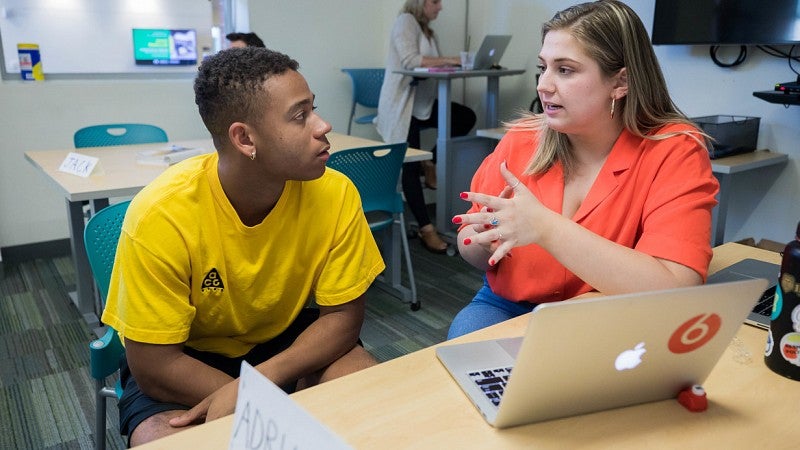 Tykeson Academic and Career Advisors support students in making meaning of their life experiences, strengths, interests, and individual, family, and cultural values while considering the wide array of educational options and career possibilities.  Integrating academic and career advising allows advisors to approach each advising interaction from micro and macro perspectives where detailed academic planning meets larger picture discussions centered around a student's career development journey.   
To facilitate these larger picture conversations with students, advisors in Tykeson Hall are organized by six themes called Flight Paths.  The Flight Paths not only serve as an organizing framework for Tykeson College and Career Advising, but also broader First-Year Experience programming.  The Flight Paths are designed to help students find an intellectual home early in their academic careers by facilitating intentional exploration of their interests, strengths, and values.  The University of Oregon's six Flight Paths are Healthy Communities, Scientific Discovery & Sustainability, Media, Arts & Expression, Global Connections, Industry, Entrepreneurship & Innovation, and Public Policy, Society & Identity.  
All majors are mapped to a flight path.  Exploring students and students declared in majors and minors in the College of Arts and Sciences can meet with Tykeson Academic and Career Advisors who are specialized in the majors in the flight path.  College of Arts and Sciences majors and minors should also continue to seek out advising from faculty when they are looking for specific information about their chosen major or career field, or detailed information about their department and its curricular and co-curricular offerings. 
Students with declared majors in the Lundquist College of Business, College of Design, College of Education, School of Journalism and Communication, School of Music and Dance, and students in the Clark Honors College should continue to utilize the advising resources in their schools and colleges.  
When students are preparing to best represent themselves for career opportunities, Tykeson Academic and Career Advisors work closely with Career Readiness Coaches from the University Career Center to make sure students are successful in translating their college experiences and academic knowledge to key skillsets employers need to advance their organization's mission and vision.